Corruption scandal: Police searched homes of ex Argentine president Cristina Fernandez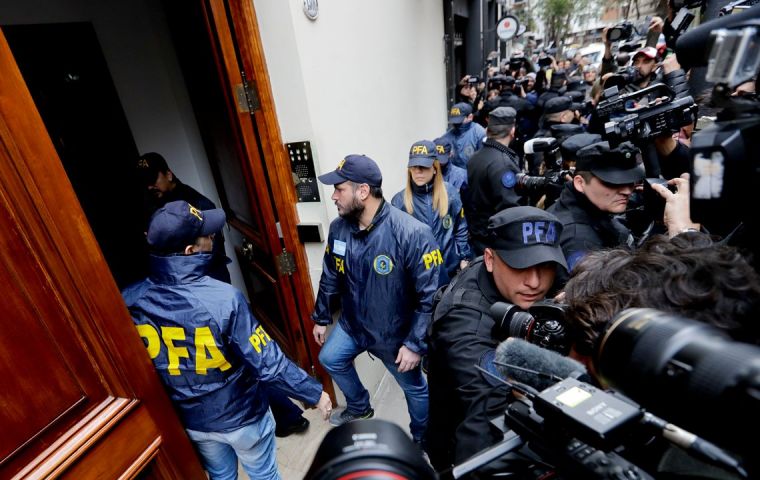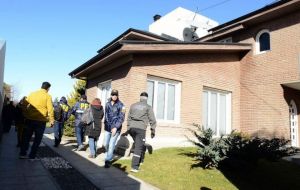 Police accompanied by sniffer dogs searched the homes of Argentina's former president Cristina Kirchner on Thursday as the investigation intensified into the so-called "notebooks" corruption scandal that has rocked the country.
The move came one day after judge Claudio Bonadio, who is leading the investigation into the multi-million-dollar bribery case, successfully petitioned the Senate to partially lift Kirchner's congressional immunity to accommodate the searches.
Police are hunting for evidence that the former leader (2007-2015) presided over a kickbacks scheme in which she, her husband and others in her administration accepted millions of dollars from businessmen in exchange for public works contracts. As a senator, Cristina Fernandez de Kirchner enjoys congressional immunity from imprisonment, but not from prosecution.
Around 20 police officers entered Kirchner's residence in the exclusive Recoleta neighborhood of Buenos Aires just after midday (1500 GMT) as police vans and fire trucks surrounded the building. Later in the afternoon, another search warrant was executed at the Kirchner's vast country getaway in Rio Gallegos in the southern Patagonia region.
Simultaneously, police raided a convent on the outskirts of Buenos Aires where two years ago, another Cristina Fernandez de Kirchner administration official, Jose Lopez, was caught red-handed trying to hide a bag containing US$ 8 million in cash.
The ex president's lawyer, Carlos Beraldi, was left fuming after he was ejected from the fifth floor Buenos Aires apartment on Bonadio's orders during the search. "This is a farce! It's a clear violation of the rule of law," said Beraldi, vowing to make a criminal complaint against the judge.
On Wednesday, Kirchner had denounced in a fiery and defiant speech to the Senate what she called "political persecution" but the 65-year-old, like all the other 66 senators present, approved the petition.
She had told lawmakers in a letter that she was willing to allow searches of her three homes on condition that investigators did not allow any filming or photography, though she complained that she was "going to be the first elected senator to be searched."
But she opted to avoid the search circus Thursday, spending the night before at her daughter Florencia's home, according to another lawyer, Gregorio Dalbon.
More than a dozen elite businessmen and former government officials were arrested after La Nacion newspaper reported on August first that millions in bribes were delivered by a ministerial chauffeur to Kirchner's residences, during both her presidency and that of her late husband Nestor.
The driver's meticulous records of the alleged cash deliveries -- the "notebooks" -- form the basis of Bonadio's investigation. According to driver Oscar Centeno's bombshell evidence, the Kirchner residence in Buenos Aires was the venue for the handover of millions of dollars in cash. Other exchanges allegedly took place at the Casa Rosada government headquarters and the Olivos official presidential residence.
Prosecutor Carlos Stornelli has said a total of US$160 million in bribes was handed over during a 10-year period from 2005-2015.
Earlier this month, Amado Boudou, a former vice president under Kirchner, was sentenced to almost six years in prison after he was found guilty of "passive bribery" and conduct "incompatible" with his duties as a public servant.