Argentina's beef exports expected to double this year boosted by China's purchases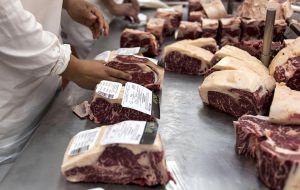 Argentina's beef exports could double in 2018 for a total of US$ 1.8 billion thanks to increased Chinese demand and a sharp devaluation of the peso currency, according to analysts and industry experts.
Analysts expect shipments to total a minimum of 400,000 tons, the largest for Argentina's beef industry in the last nine years, indicating the sector is strengthening despite a financial crisis that has bedeviled President Mauricio Macri's government.
Regulations imposed by former President Cristina Fernandez in 2007 and 2015 reigned in exports of beef, a product many Argentines see as part of their national identity.
According to data provided by sector chambers and one analyst, Argentine beef exports could end the year between 400,000 and 470,000 tons. That is well above the 200,000 tons sold last year, official data shows.
"As a regional leader, the Chinese market is what determined the substantial increase in volume," Mario Ravettino, president of the Consortium of Argentine Beef Exporters said. The consortium expects the country to ship 410,000 tons of meat for US$1.8 billion this year.
From January to July 2018, China doubled its purchases of Argentine beef to 96,500 tons, according to the Ministry of Agriculture. That represented half of the total 184,000 tons of beef shipped in the same period from Argentina, totaling US$ 1.027 billion.
In May, China expanded its imports to include frozen, boned beef, as well as chilled beef with and without bones. Previously, Argentina only exported frozen boneless beef to the Asian country.