Migrants returning to Venezuela following Maduro's promise of jobs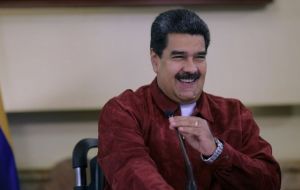 A group of Venezuelan migrants has returned home from Peru at the expense of Nicolas Maduro's government. Facing an exodus from Venezuela, Maduro had proclaimed his countrymen "won't be slaves to anyone in the world."
Around 100 Venezuelan migrants in Peru flew back to their home country on Monday, taking part in an initiative proposed by Caracas to mitigate the effects of mass immigration. Over 1.6 million people have left Venezuela since the country's economy started its downward spiral in 2015.
Many of the migrants traveling home on Monday complained of xenophobia against Venezuelans as Peru and other countries in the region cope with the influx.
The group of 97 migrants, including 22 children and four pregnant women, was initially put up in a Lima hotel near the Venezuelan embassy, where they received food and medical care, according to a Caracas representative. They later flew for Caracas at the expense of Venezuelan government.
The free flight home and the promised job assistance are a part of the "Return to Homeland" program announced by populist president Nicolas Maduro earlier this year.
"Venezuelans won't be slaves to anyone in the world!" he proclaimed, describing the exodus as another ploy of his political opponents to weaken his government.
As the economic crisis in Venezuela deepens, some 4,000 people leave the country every day to cross into Ecuador, Peru, Colombia, and Brazil. Migration officials from the four nations are due to meet in Bogota later this week to decide on a regional response.