Cocaine in wool bales exported to Europe, discovered in the port of Montevideo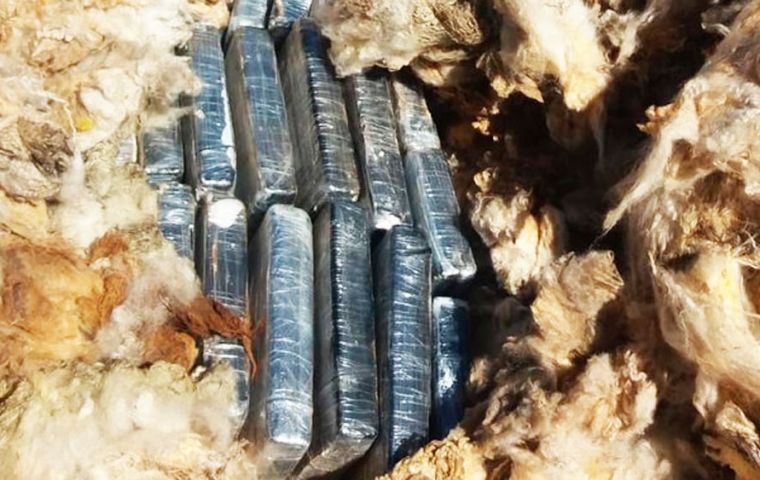 Uruguayan navy, coast guard and customs have uncovered a major operation to smuggle cocaine "bricks" hidden in wool bales, in a container, from the port of Montevideo to Antwerp, Belgium. The volume discovered according to the Navy report amounts to 417 kilos of high quality cocaine hydrochloride and is considered one of the largest recent successes in the fight against the narcotics gangs.
So far four people have been arrested, included a woman, and a Customs dispatcher, allegedly involved in the operation. The Friday search of the 40 ft. container, which had the 368 cocaine bricks among the wool, was ordered by Prosecutor Monica Ferrero. It is estimated that the street value of the cocaine in Europe could be in the range of US$ 24 million.
Antwerp is one of the main ports of Europe, and next to consumer markets. Although not many more details have been disclosed in Montevideo, it is believed the impounding and search of the container was a combined operation between local, European and US agencies combating the drugs trade.
Montevideo was also involved some ten years ago in another major cocaine haul. Under the code name of "Fishing Venus" some 600 kilos of pure cocaine were intercepted in containers with frozen fish for Spain, most probably involving the so called Galician mafia, smugglers of cigarettes and later hard drugs.
The operation was in combination with Spanish and European authorities. Apparently the shipments of frozen fish with the drug, from Montevideo, started sometime in 2008 but the big bust was in April 2011, when most of the Spanish suspects, routes and operation were thoroughly confirmed.
The port of Montevideo only last month was surprised with a container, from the United States, which intended to smuggle several types of assault weapons and ammunition which in Uruguay are only of military use.
But the largest drugs' bust was in October 2009, working with Argentine, US and EU agencies when a yacht transporting two tons of Colombian cocaine to Europe was arrested in Santiago Vázquez, some 30 kilometers west of Montevideo. The yacht left from San Fernando in Argentina and was closely followed to check any high seas contact, but was finally stopped with the two tons of cocaine, apparently belonging to the Serbian mafia. The code name of the operation was "Balkans' warrior".