Argentine equities and Peso lose ground on Monday: IMF and budget concerns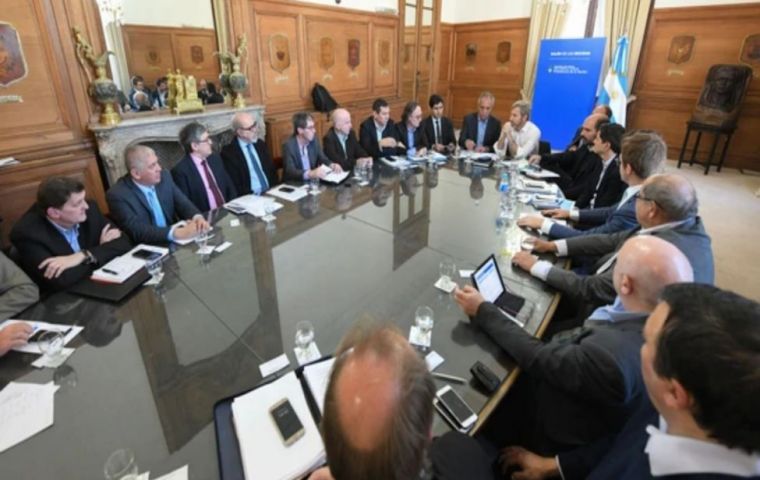 Argentine equities and the peso both lost ground on Monday as analysts said intervention in the foreign exchange market by the nation's central bank may prove less successful than originally hoped.
Likewise another issue of concern is the 2019 federal budget negotiations with opposition provincial governors to ensure the passage of the major bill in Congress, including the austerity measures pledged by president Mauricio Macri administration.
Traders are awaiting the outcome of talks between the Argentine government and the International Monetary Fund that began last week. The multilateral lender is contemplating measures to strengthen its US$ 50 billion financing line with Argentina after a recent rout in the peso, which has fallen some 50% against the dollar this year.
The central bank has auctioned off hundreds of millions of dollars of reserves in recent days in a bid to stem losses.
The peso fell 0.94%, recovering slightly from earlier in the day at 38,20, while the benchmark Merval equities index weakened 1.07%. The Rosh Hashanah celebration also had an influence on Monday's market activities. Energy and financial equities were down while overall trading reached US$ 525 million, 41% lower than last Friday.
The Argentine currency has risen or fallen at least 1 percent against the dollar every day for the last two weeks.
On Monday Argentina's country risk was up again, 2.8% to 745 points following three days running of descents.
Across Latin America, equities markets were mixed after U.S. President Donald Trump on Friday threatened to slap tariffs on some US$ 267 billion of Chinese goods.
In Brazil, where right-wing front-runner Jair Bolsonaro is recovering from a serious stabbing incident, the benchmark Bovespa fell 0.29%, dipping from a 1 percent spike earlier in the session.
Despite the overall decline, shares of state-run oil company Petrobras climbed more than 1% as oil prices rose.
The Brazilian real and Mexican peso were the only major Latin American currencies to rise on Monday, with the Real firming 0.26% and peso strengthening 0.40%.