Argentina's central bank keeps key interest rate at 60%
Wednesday, September 12th 2018 - 08:55 UTC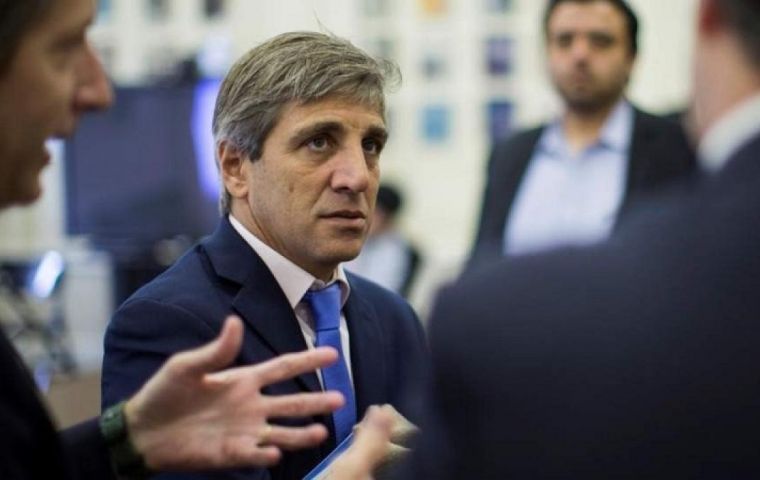 Argentina's central bank kept its key interest rate on Wednesday at 60%, one of the highest in the world, following a surprise hike two weeks ago after the peso plunged. Central bank officials said in a statement that inflation accelerated in August and continues to do so September, citing high-frequency data.
They forecast the economy to be in recession this year and next. They also reaffirmed their commitment from August to not lower rates until December in an effort to stabilize the peso, which is down more than 50% so far this year.
Officials hiked rates to 60% from 45% on August 30 as the peso was in free fall due to uncertainty over Argentina's plans to cut government spending as part of an agreement with the International Monetary Fund.
It was the fifth surprise rate hike so far this year by the central bank, which saw a changing of leadership in June as the currency declined.
In addition to raising rates, Central Bank President Luis Caputo has sold international reserves, raised bank reserve requirements and announced a plan to eliminate a portion of public debt.
Argentina's economy has been thrown off course this year by a historic drought, volatile global markets, communication missteps by its policy makers and, at times, confusing policies. The economy ministry estimates a contraction of at least 1% this year.
The government has been holding talks with the opposition to have Congress approve the 2019 budget bill. The proposal includes unpopular spending cuts aimed at reducing the primary deficit to zero next year, a move intended to bolster the peso by improving confidence in the government's ability to pay its debts.
Economy Minister Nicolas Dujovne met with provincial governors on Tuesday to open budget talks. "We have reached an agreement with opposition members that will allow us to achieve a balanced budget," Dujovne told reporters after the meeting, with no further details.
Argentina is re-negotiating the terms of a US$50 billion standby financing agreement struck with the IMF in June. The government recently revamped its fiscal targets to include erasing the primary fiscal deficit in 2019 though budget cuts and export taxes.