US, the world's top crude oil producer, but global geopolitical uncertainty prevails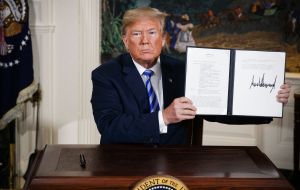 The U.S. Energy Information Administration (EIA) said that the U.S. likely surpassed Saudi Arabia and Russia earlier this year to become the world's top crude oil producer. The EIA based its disclosure on preliminary estimates in its Short Term Energy Outlook which is released every month.
The U.S., in news that was widely covered by media at the time, bypassed Saudi Arabia in February to become the second largest global oil producer, the EIA says. It was the first time in more than 20 years that the U.S. out produced Saudi Arabia. Then in June and August, U.S. output bypassed Russia for the first time since February 1999.
The EIA expects that U.S. crude oil production, most of it light sweet crude, will continue to exceed Russian and Saudi Arabian crude oil production for the remaining months of 2018 and through 2019.
The EIA disclosure comes as oil markets are trying to make sense out of both supply and demand questions as well as geopolitical uncertainty. Since President Trump decided in May to re-impose sanctions against Iran over its nuclear development program, uncertainty has seized the market. The first row of new sanctions against Iran were put in place in August, while more hard-hitting sanctions against the country's energy sector will take effect on November 4.
With the prospect of as many as 1-2 million barrels per day (bpd) of Iranian barrels being removed from global markets, both Saudi Arabia, likely bowing to pressure from Trump, and also Russia, have already pledged to increase output to keep a ceiling on prices. This uncertainty comes as crucial mid-term congressional elections, slated for November, approach. The concern for Trump and Republican candidates has been higher global oil prices and higher gasoline prices hitting voters in the pocket book and possibly causing voter backlash at the polls.
Now, it appears that a Saudi-led OPEC has stepped up to the plate. The cartel's oil production increased last month by 278,000 bpd over the previous month, OPEC said. However, the increase in production came from higher output in Iraq, Libya and Nigeria. Both Libya and Nigeria have had severe output problems this year, causing more supply concerns for the market.
OPEC also said that total global oil supply increased by 490,000 bpd in August, to average 98.88 million bpd, a result of OPEC production growth and rising output in industrialized, oil-consuming nations like the U.S. However, U.S. oil production growth in 2019 is projected to grow at a slower rate than previously forecasted, according to EIA estimates.
U.S. crude oil production is expected to rise by 840,000 bpd to 11.5 million bpd next year, lower than a previous expectation to increase 1.02 million bpd to 11.7 million. Oil demand growth in 2019 is expected to rise by 250,000 bpd, a decrease from EIA's previous projection for an increase of 290,000 bpd. The EIA left 2018 production and demand growth forecasts unchanged.
U.S. production this year is expected to grow 1.31 million bpd to 10.66 million bpd, unchanged from EIA's previous forecast. Demand in 2018 is likely to grow by 470,000 bpd, also unchanged.
A slowdown in U.S. production growth next year comes at a delicate time for oil markets, especially with Iran production being curtailed while uncertainties remain in Venezuela, Libya and Nigeria, all three are OPEC producers.
Moreover, despite the increased August output, OPEC is also issuing a warning on the demand side of the oil markets equation. On Wednesday, OPEC's analysis arm said demand for the cartel's own crude oil will be almost 1 million bpd more than the level produced in August. Global commodities data provider S&P Global Platts said this shows that the producer group will have to bring more barrels into the market to avoid a supply squeeze.
By Tim Daiss for Oilprice.com