Argentina plans offshore licensing round in the South Atlantic next October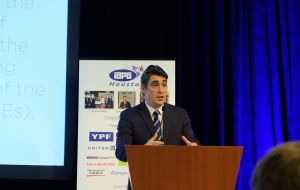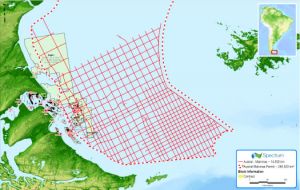 Argentina plans to launch a delayed offshore licensing round in October as it seeks to explore a large frontier region in the South Atlantic for potential oil and natural gas production growth in the future. This was announced to oil executives in Houston by Argentina's energy secretary Javier Iguacel.
Iguacel traveled to Houston last week to drum up investment, with a focus on Vaca Muerta, one of the world's biggest shale plays. The development of the play by majors like Chevron, ExxonMobil and Shell, as well as local companies, is leading a recovery in oil and gas production from recent lows, bolstering expectations of self sufficiency and a surge in exports.
To sustain production growth over the longer term, however, the government wants to explore offshore. The first of what is expected to be a series of rounds is to be for as many as 38 blocks in three basins on the continental shelf and slope, in water depths ranging from less than 100 meters to 4,000 meters.
This will be the first big exploration effort in Argentina since 1991, with only sporadic attempts since.
In a June interview, Rodrigo Garcia Berro, an adviser to the Energy Secretariat who is spearheading the auction, said he thinks explorers will bid because there is so little known about the offshore acreage.
rgentina's only offshore region in production is off the coast of Tierra del Fuego, the source of about 20% of the country's gas.
The rest is largely virgin, and at least two dozen companies have stepped forward to express interest, including US-based Anadarko Petroleum, ConocoPhillips and Hunt Oil, as well as Italy's ENI and Ireland's Tullow Oil, Scotland's Cairn Energy and Australia's Woodside Energy. Norway's Equinor and the big international players already in Vaca Muerta also have taken part in talks to prepare for the round.
The round is coming three months later than previously expected and this has raised concerns about why.
The government hasn't mentioned any specific reasons, but most analysts say it's probably because of a change in leadership. Iguacel was appointed in June after his predecessor, Juan Jose Aranguren, was fired, meaning there may have been delays.
Apparently the big oil companies in Houston asked Energy secretary Iguacel three basic requirements to expand in Argentina: transparency, free market and continuity in the rules of the game set out by the government.
Transparency refers to the corruption experience during the previous governments of the Kirchner couple. Free market to avoid price controls and exposure to officials bullying as happened with ex Commerce minister Guillermo Moreno under ex president Cristina Fernandez.
Finally as to the rules of the game, companies insisted in the continuity of Resolution 46 which extends subsidies to producers who increase the extraction of non conventional gas. Allegedly Iguacel pledged commitment to the three requirements. Likewise, according to Argentine sources investments in Vaca Muerta shale field could reach some US$ 9 billion, including the increase of drilling teams from the current 28 to 50.