Cristina Fernandez and children to face trial for alleged money laundering
Friday, October 5th 2018 - 08:58 UTC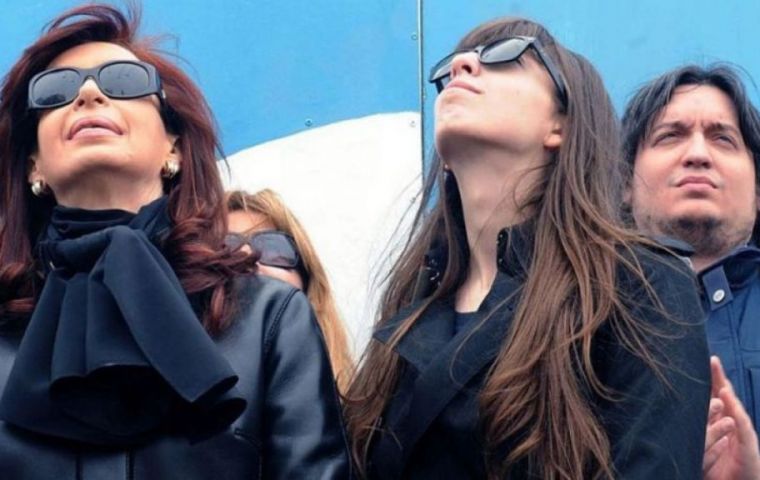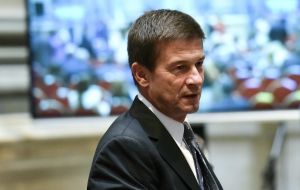 Former president Cristina Fernández de Kirchner and her children, Florencia Kirchner and Máximo Kirchner, will face trial on alleged money-laundering allegations after a federal judge this week decided to elevate his investigation, sending it to oral and public trial. Disgraced Kirchnerite business allies, Lázaro Báez, Cristóbal López and Fabián De Sousa will also face trial.
The case centers around a firm called Los Sauces SA, a real-estate company owned by the former president and her children. Investigators believe the firm was used a front to launder money illegally siphoned off from over-inflated state contracts.
Federal Judge Julián Ercolini has charged the former president with leading an "illicit association of stable and permanent character" that laundered money obtained through bribes via faked rental contracts through the hotels from Los Sauces SA.
Ercolini says Fernández de Kirchner was ultimately responsible for the scheme "to recycle funds of illicit origin," while her son, Máximo, was an organizer. He says the "association" ran from January 2009 until March 2016.
According to investigators, Báez and López would overpay on rental contracts to kick back the money to Cristina Fernández de Kirchner and her family. Both businessman – key business allies during the Kirchnerite years – were responsible in total for 80% of the Los Sauces SA's total revenue from January 2009 until March 2016.
Ercolini has concluded that the ex-president and her children ran "a scheme for the recycling of funds from illicit origins through Los Sauces SA," citing "money from illegitimate sources that was channeled through companies" owned by Báez and López.
As well as the former president and her children, Máximo and Florencia, Báez's children – Martín, Leandro and Luciana – were also called to face trial.
Others named in the probe include a former Kirchnerite accountant, Víctor Manzanres and Romina de los Ángeles Mercado, a niece of the former president. In total, 18 were charged, along with the members of the Kirchner family.
The date for the trial has been set for 26 February 2019. Even if she is sentenced, the former President will have the possibility to appeal to the Court of Appeals, the Cassation Court and, if the case merits so, the Supreme Court. Therefore, an eventual firm sentence against Cristina Fernandez de Kirchner is still far in the future.