Hurricane Michael 155mph (250km/h) winds flood beach towns in Florida and moves to Georgia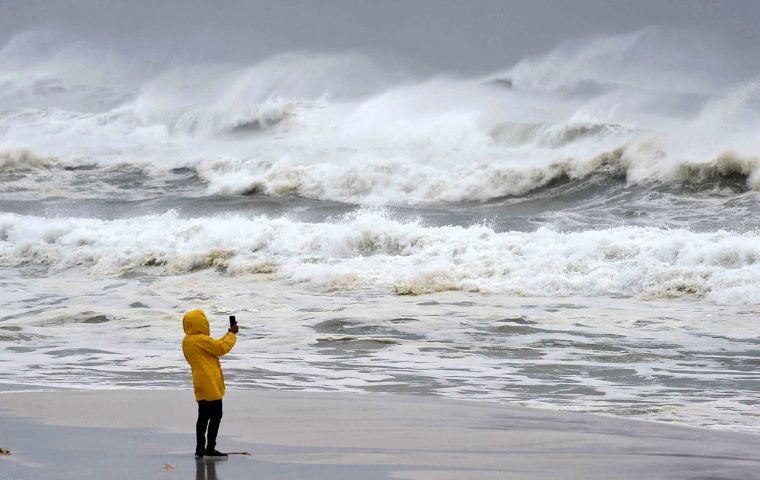 The most powerful hurricane ever to hit the north-west state of Florida has flooded beach towns, submerging homes and snapping trees like twigs. Hurricane Michael made landfall on Wednesday afternoon as a category three storm with 250km/h winds in the state's Panhandle region. Two people have been reported killed in Florida.
The terrifying Category 4 hurricane crashed ashore near Mexico Beach, a lightly populated tourist town about midway along the Panhandle.
The United States National Hurricane Center (NHC) described Michael as "potentially catastrophic" Debris was strewn across miles of Florida's coastline: roofs and awnings peeled back from buildings, pieces of homes scattered amid snapped trees and downed power lines, chunks of beaches washed away.
As of 11 p.m. EDT, Michael was about 80 kilometers south-southwest of Macon, Georgia.
Nearly 30 million people in the Southeast were in its crosshairs. Forecasters said strong winds and rains would thrash Georgia and North and South Carolina, including areas that got a drenching last month from Hurricane Florence.
Approximately 288,000 homes and businesses were without power in Florida, 40,000 in Georgia and 41,000 in Alabama.
The National Hurricane Center said early Thursday that Michael had become a tropical storm as it moved over central Georgia.
The eye of Hurricane Michael will be moving across southern Georgia overnight Wednesday into Thursday, the National Hurricane Center said. The center of the storm was located about 80 kilometer south-southwest of Macon, Georgia, as of 11 p.m.