Bolsonaro pledges support for a non ideologized Mercosur; praises Macri for ousting Dilma Kirchner
Friday, October 12th 2018 - 09:05 UTC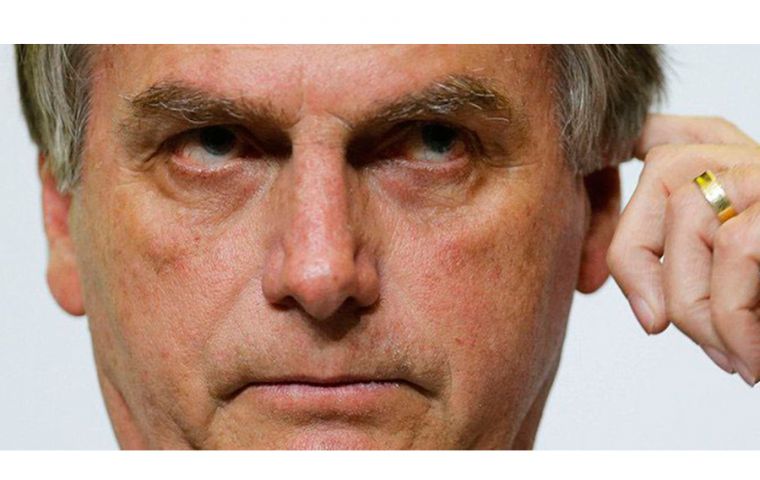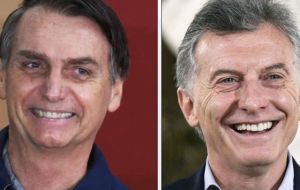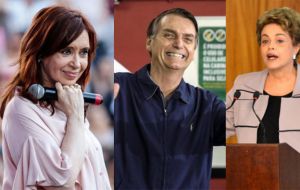 Brazil's far-right presidential candidate Jair Bolsonaro has promised to continue his country's participation in the Mercosur trading bloc but says he will move it away from "ideology"."The Mercosur has value but it was disfigured by the PT (Brazil's Workers' Party)", Bolsonaro said at a press conference in Rio de Janeiro on Thursday. "I won't abandon the Mercosur but it won't continue to be guided by ideology", he added.
In one of Bolsonaro's first major statements about the region, the controversial candidate also had words of praise for Argentine President Mauricio Macri.
"Above all, a hug for Macri who ousted Dilma Kirchner", he said, referring to former Argentine president Cristina Fernandez de Kirchner and former Brazil president Dilma Rousseff.
On Wednesday, the frontrunner to be Brazil's next president stumbled by spooking previously supportive investors, while a spate of violent incidents pointed to deep polarization caused by the election race.
The Brazilian stock market fell, pulled lower by steep plunges in state-run energy companies, after the far-right-wing candidate made clear his promises for privatizations and pension reform were a lot less ambitious than many expected.
Bolsonaro's economic advisor was also targeted in a federal fraud probe into alleged mismanagement in investment firms he ran, involving pension funds linked to state-run companies. The prosecutors' office confirmed the investigation, first reported by the Folha de São Paulo newspaper.
A survey released late Wednesday by the Datafolha firm confirmed Bolsonaro's advantage for the second round, crediting him with 58% of voter intentions to 42% for Fernando Haddad.