Government fails to strip Cristina Fernandez of her parliamentary immunity
Wednesday, November 21st 2018 - 08:40 UTC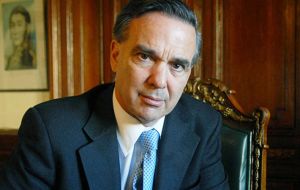 Argentina ex-president and Senator Cristina Fernandez de Kirchner will retain her parliamentary immunity for the rest of the year following the ruling coalition's Senate block failed attempt on Tuesday afternoon to address the issue.
The senate session was convened at 16:00 but half an hour later only 26 out of the needed 37 lawmakers turned up; 24 from the government block and two from the opposition.
Federal Judge Claudio Bonadio claims the ex-president partook in a cover up of the 1994 AMIA Jewish community centre bombing. He has requested the Senate to strip Fernández de Kirchner of her congressional privileges. If successful, it would put into effect his arrest warrant against her.
Peronist leader in the Senate, Miguel Angel Pichetto has rejected the move and refused to collaborate with the government's coalition on the grounds that Cristina Fernandez has not yet been charged for any crime.
"It's another stupidity" of the government's, Pichetto said.
"I don't believe this session is viable. We have asked the court (trying Fernández de Kirchner over alleged cover-up) for a report. We were hoping it makes a decision before Tuesday," he said.
Federico Pinedo, president of the Senate said he was forced to end the session, but the Chamber tried to comply with Judge Bonadio's request from March first, which effectively expired this Tuesday following on the 180-day procedure.
"We have shown there is not a corporative spirit in the Senate in addressing issues. And there is also no such thing as a political or judicial persecution, what is ongoing is a court investigation. We were very careful about the boundaries of the discussion" pointed out Pinedo.
Fernández de Kirchner is facing a number of legal battles, and in this particular case has denied involvement in any AMIA bombing cover-up, saying instead her government's decision to seek a Memorandum of Understanding (MoU) with Iran was aimed at putting an end to the legal stalemate surrounding the AMIA investigation.
Prosecutors, however, allege the Kirchner governments were offering immunity to accused high-ranking Iranian government officials in exchange for trade deal.