Dollar climbs in Argentina as Macri worries about football violence
Monday, November 26th 2018 - 21:39 UTC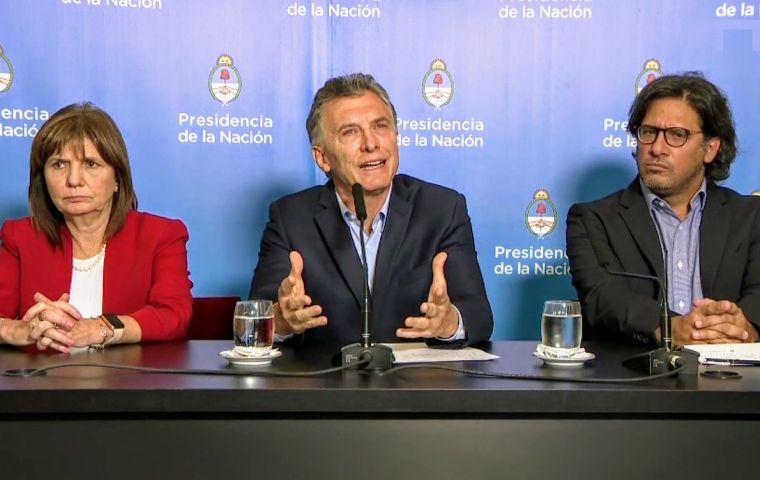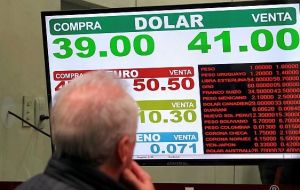 Buenos Aires was still shaking around noon Monday from the weekend's Libertadores Cup fiasco. President Mauricio Macri was publicly addressing the issue for the first time at a press conference escorted by Security Minister Patricia Bullrich and Justice Minister Germán Garavano. And with the spotlight there, the US dollar crept back up against the Argentine peso after a two-month nadir, closing at AR$ 39.9 per 1 US dollar at the end of the business day.
Central Bank sources considered that quotation to be between the acceptable floating range and even closer to ther AR$ 36 bottom than to the AR$ 47 ceiling, due to which there was no reason to intervene or even to speak of a crisis of any sort.
The market has been impacted by a flow of pesos from due lebac bonds and that is where the Central Bank finds an explanation to the sudden increase.
Wholesale operations were traded at AR$ 39, a 3.72 percent increase, with a retail quotation of AR$ 40, while at opening time (10 am) the US dollar sold for AR$ 38.3. It was way above AR$ 39 by noon, with a wholesale price around AR$ 38.
Meanwhile, Macri was calling for Argentines to "reject the violent ones, who in no way contribute to the country's insertion in the international community," looking totally unaware of the exchange rate stampede.
The second leg of the Libertadores Cup football final pitching arch-rivals River Plate and Boca Juniors was to be played Saturday afternoon, but the bus carrying the latter's squad was attacked with stones and other objects, resulting in many injured players, which in turn led to numerous reschedulings and a final postponement. The South American Football Confederation is to issue a ruling on that matter Tuesday at its headquarters in Asunción.
Back to Buenos Aires, the cash-thirsty state-run Banco Nación ended up selling dollars for AR$ 39.9 / 1 US$.
Traders reported the volume of transactions Monday exceeded the usual number: US$ 723 million against US$ 546 million last Friday, with "very little supply and strong demand," as trader Gustavo Quintana posted on Twitter around noon.
Despite the peso surplus in the market, exchange rates kept going down, it was reported, while the euro reached AR$ 43.13 and Brazil's real was rated at AR$ 10.05.
The Ambito Financiero daily quoted trader Christian Buteler as explaining he saw three reasons behind the rise of the US dollar: 1. Central Bank measures to discourage short-term speculative capitals; 2. Last week's dissolution of the lebac letters of exchange and 3. the low interest rate offered by the leliq letters (61,405% annual from the previous 61,699%), which failed to attract investors that went back to foreign currency.
(MercoPress / Buenos Aires)