Trump downplays a trade deal with China ahead of Saturday's meeting with Xi in Buenos Aires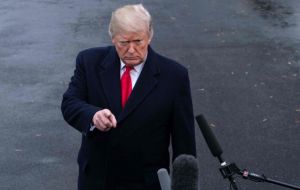 United States president Donald Trump and Chinese leader Xi Jinping will meet on Saturday in Argentina on the sidelines of a Group of 20 summit in Buenos Aires, a U.S. media outlet reported on Monday. The two leaders will meet a day after the United States, Mexico and Canada sign a new trilateral trade agreement, the online edition of Inside U.S. Trade said.
Trump and Xi are expected to discuss ways to defuse the trade war between the world's two largest economies as well as the tit-for-tat tariff measures imposed by each country.
The Trump-Xi talks are unlikely to yield a resolution to the trade dispute, nor lead the United States to lift its tariffs on Chinese imports — though Trump will be watched closely for any signs that he is willing to make a deal or at least claim a win, Inside U.S. Trade said.
Separately, Trump said in an interview on Monday with The Wall Street Journal that it is "highly unlikely" that he would accept Beijing's request that Washington hold off on the planned increase in tariff levels on US$ 200 billion of Chinese imports to 25% on Jan. 1 from the current 10%.
Trump told the paper that if negotiations do not work out, he would also add tariffs on all remaining Chinese imports, including iPhones and laptop computers, that are currently not subject to duties.
"If we don't make a deal, then I'm going to put the US$267 billion additional on," at a tariff rate of either 10% or 25%, he was quoted as saying.
Chinese officials have said their priority at the upcoming Trump-Xi summit is to convince the United States to suspend the planned 15 percentage point increase in tariffs on US$ 200 billion in imports from China. But Washington is unlikely to accede, Trump was quoted as saying.
"The only deal would be China has to open up their country to competition from the United States," he said.
Trump has demanded that China improve market access and intellectual property and technology protections for US companies, remove industrial subsidies and cut its massive and chronic trade surplus with the United States.
Speaking to reporters Monday at the White House, Trump urged China to treat the United States "fairly" on trade. "China has to treat us fairly," he said. "They haven't been." Asked if he could strike a deal with Xi, Trump said, "It could happen. We have a good relationship."