Buenos Aires sealed off for G20; anarchists and anti capitalists pledge to stage protests
Wednesday, November 28th 2018 - 08:26 UTC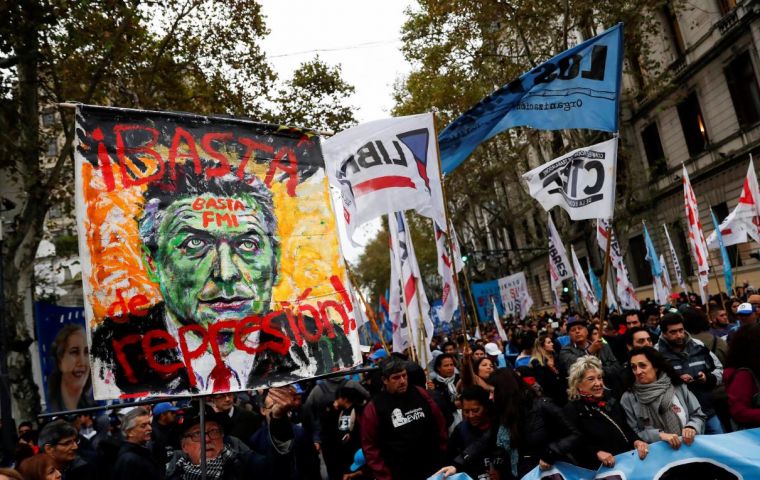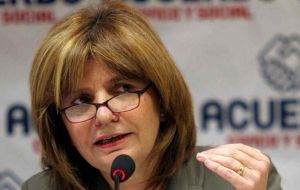 Argentine authorities say that Buenos Aires will be an armored city when world leaders arrive for this week's G-20 summit. But security failures that marred a football championship and deeper unrest over an economic austerity program are raising concerns about the country's ability to ensure safety.
About 22,000 police and security agents will guard U.S. President Donald Trump and other leaders from the Group of 20 industrialized and emerging nations during the two-day meeting that starts Friday. At least another eight U.S. aircraft and up to 400 American military personnel and civilians are expected to provide additional security.
"We're working on every detail," said Argentine Security Minister Patricia Bullrich, at a press conference addressing G-20 concerns. "We don't have disagreements, and even less so in these types of operations where we work in teams."
Even with beefed up security, however, the Argentine government will inevitably be facing demonstrations that could potentially draw thousands of activists, some of whom might be coming from other parts of the world.
Anarchist and anti-capitalist groups have announced that they will stage protests under the slogan "Get Out G-20, Get Out IMF," while messages posted on social media are demanding the ouster of Trump and other leaders, such as Brazil's far-right President-elect Jair Bolsonaro, who will take office on Jan. 1.
However the heart of Buenos Aires City will be sealed off, with public transport suspended and residents invited to leave the city for the weekend. Commercial maritime and air traffic has also been cancelled during the two-day event.
The summit comes just days after an inopportune soccer-related incident also threw public security measures into question.
Critics say that police on Saturday failed to prevent an attack on players from the Boca Juniors soccer club when River Plate fans hurled stones and other objects at their team bus as they were headed to play a championship match.
Several players, including the team captain, were injured when a bus window shattered, while others were affected by tear gas and pepper spray used by police to contain violence. Fans also vandalized cars and other property near the stadium, ultimately leading to the postponement of the Libertadores Cup final.
Argentina is the first South American country to host the G-20 summit, and officials have the added challenge of ensuring that chaos is better contained than it was at last year's meeting in Hamburg, Germany.
At that summit, a 38-square-kilometer "no-protest zone" encompassing the airport in Hamburg was blocked off as clashes broke out between police and protesters.
Argentine authorities have reiterated that they'll crack down on any effort to disrupt the gathering and will not tolerate violence.
"Whoever wants to demonstrate must do it within the confines of peace and freedom of expression. Not violence," Bullrich said."Whoever crosses the line, will have to face the legal consequences."
But Argentines have taken to the streets in mass in recent weeks to demand solutions to the country's economic crisis and reject government austerity measures implemented in response to currency and inflation problems.
The situation has forced President Mauricio Macri's government to seek a US$ 57 billion credit line with the International Monetary Fund this year and has been a source of discontent for those who have bad memories of a 2001 crisis when banks froze deposits and people were prohibited from withdrawing their savings.
Macri, a pro-business conservative who came into office in 2015, had promised to trim Argentina's fiscal deficit, reduce poverty and curb inflation. He said the G-20 gathering shows that the world supports Argentina, and that his government will work hard to make sure that everything "goes well."