Anti-globalist protests and controversy over the use of lethal weapons: Argentine Minister of Security came out to clarify in the framework of the G20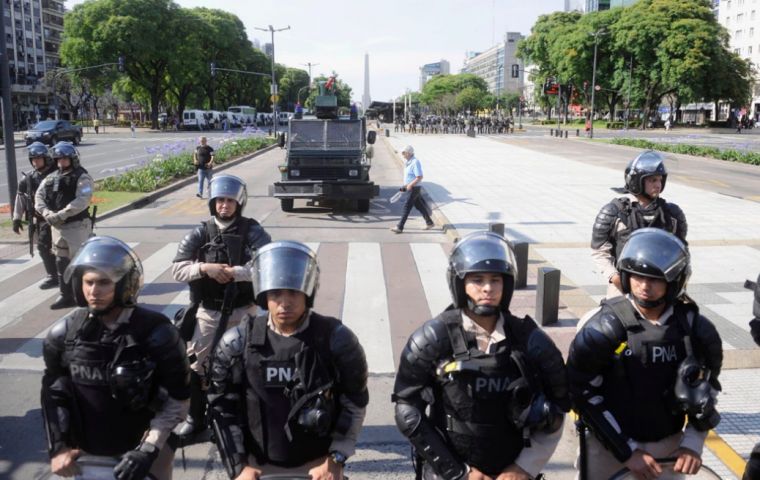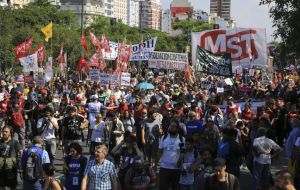 After the controversy generated by a resolution in which the Ministry of Security of Argentina allows the police to use lethal weapons against a person who flees in the framework of the summit of the Group of 20 in Buenos Aires, the minister Patricia Bullrich went to clarify that this disposition "has nothing to do with the mobilization" against the G20 crowded by social organizations this Friday.
The Minister said that lethal weapons would not be used during the protest, something only reserved for situations in which there is "imminent danger" for any president of the Summit. Bullrich explained that this modality "is a formula that is adapted by people in the custody of presidents", who are authorized to shoot in case of risk against authority.
Social, political and union movements called for a demonstration against the unprecedented international event in the Argentine capital. "They asked to use Avenida de Mayo and we have agreed, there will be a fence and from Avenida de Mayo and 9 de Julio they will not be able to pass," added Bullrich.
The mobilization had an extension of more than 10 blocks and dozens of faces covered attended but no stones among the protesters. The main slogans yelled were against Mauricio Macri, Patricia Bullrich, Donald Trump and the elected president of Brazil, Jair Bolsonaro.
During the week, the government had asked the social organizations that the same be "without covered faces" and "without elements or artifacts that are aimed at violence."
The security minister added that there would be 2,500 policemen in charge of containing the counter-globalist march, 10 percent of the total who act mainly in the exclusion zones.
After the wave of criticism that the resolution 956/2018 of the Ministry of the Security untied, Bullrich had to clarify that between the cash that will watch the social convocation "will not have lethal weapons" but "specific" for that occasion.
The summit, inaugurated by the host and Argentine President, Mauricio Macri at noon this Friday, had all the participants present except the Chancellor of Germany, Angela Merkel, who had a mishap with his plane on Thursday and arrived in Buenos Aires in the afternoon. This year's summit is presented as the most complicated to conclude with a joint document due to the strong political-economic tensions between the great powers of the planet.