Trump and Xi in Buenos Aires agree a 90 day truce to continue US/China trade talks
Sunday, December 2nd 2018 - 08:34 UTC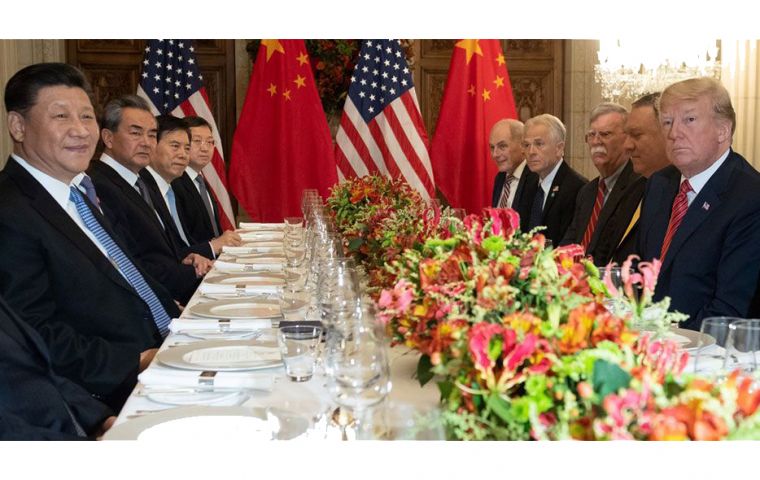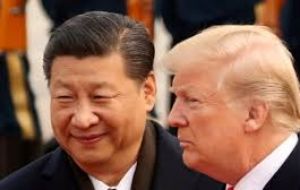 US President Donald Trump and his Chinese counterpart Xi Jinping have agreed to halt new trade tariffs for 90 days to allow for talks, the US says. The two men met in Buenos Aires after the G20 summit for their first talks since a trade war erupted this year.
China says they agreed not to impose any new trade tariffs after 1 January At the summit earlier on Saturday, the G20 leaders agreed a joint declaration that notes divisions over trade but does not criticize protectionism.
Ahead of the G20, Mr Trump had told US media he expected to go ahead with plans to raise tariffs on US$ 200bn of Chinese goods - first introduced in September - from 10% to 25%, starting in January.
The White House says this move is now suspended for 90 days but adds, "If at the end of this period of time, the parties are unable to reach an agreement, the 10% tariffs will be raised to 25%."
In return, the White House adds, China agreed to buy an unspecified but "very substantial" amount of agricultural, energy, industrial and other products.
Chinese state TV said earlier: "No additional tariffs will be imposed after January 1, and negotiations between the two sides will continue."
Both sides have imposed tariffs on billions of dollars' worth of goods. The US has hit US$ 250bn of Chinese goods with tariffs since July, and China has retaliated by imposing duties on US$ 110bn of US products.
Mr. Trump had also said that if talks in Argentina were unsuccessful, he would carry out a threat to hit the remaining US$ 267bn of annual Chinese exports to the US with tariffs of 10-25%.
US-China trade divisions meant an Asian economic summit earlier this month was unable to agree a formal leaders' statement for the first time in its history.
French leader Emmanuel Macron told reporters that the World Trade Organization, the body that regulates trade disputes, needed to be modernised.
A senior US official underlined it was the first time that the G20 had recognised that the WTO was "currently falling short of meeting its objectives" and needed reform.
On Friday Mr Trump briefly met Russian President Vladimir Putin on the sidelines of the G20, a Russian official told Reuters.
Earlier the US president said he had postponed a planned press conference "out of respect for the Bush family", following the death of former President George HW Bush, at the age of 94.
Earlier on in the summit, emerging economies denounced protectionism.