Russian helicopter maintenance hangar opened in Peru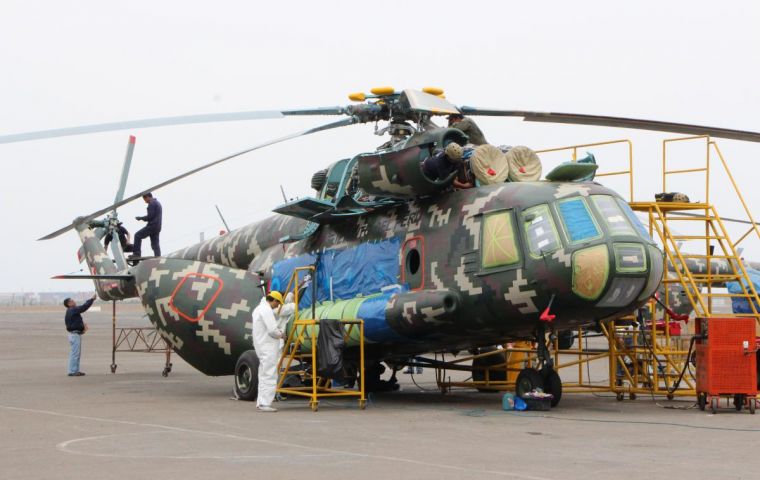 Russian-made Mil Mi helicopters can now undergo maintenance and repairs in Lima, Peru, after facilities to carry out those tasks were opened Monday within a local Air Force compound, it was announced.
The Helicentro Peru was developed with support from the Russian Helicopters Group (a member of the Rostec Group) within the Peruvian Air Force Maintenance Service (SEMAN) in Lima and has been set up to deal with the maintenance of Mi helicopters and to repair civilian Mi-17 helicopters operating in the region.
Specialists of Russian Helicopters Group will be carrying out major repairs of Mi-17 helicopters operational in the Peruvian Air Force.
"Although the Centre has just begun its work, it is provided with orders until 2023: in the next five years, the repairs of about 40 helicopters are planned. Besides, Peru's advantageous geographical position and the production capacity reserve make it possible to consider also orders from other countries of the region," Russian Helicopters Group CEO Andrei Boginsky was quoted as saying.
The Centre's creation will help carry out the entire range of works without transporting the fuselages from the country's territory.
Peru is the largest importer of Russian-made helicopters in Latin America, with over 100 operating on a daily basis.
Mi-8/17 helicopters developed by the Mil Design Bureau are well-known in the world as reliable and easy-to-operate rotorcraft. They are used in medical-sanitary and humanitarian missions, cargo and passenger versions, including VIP transport. Mi-8/17 military transport helicopters are designed to carry personnel and also cargo inside the cabin and on an external sling.