Pichetto pledges a "democratic, capitalist, intelligent, productive" Argentina
Wednesday, June 12th 2019 - 09:57 UTC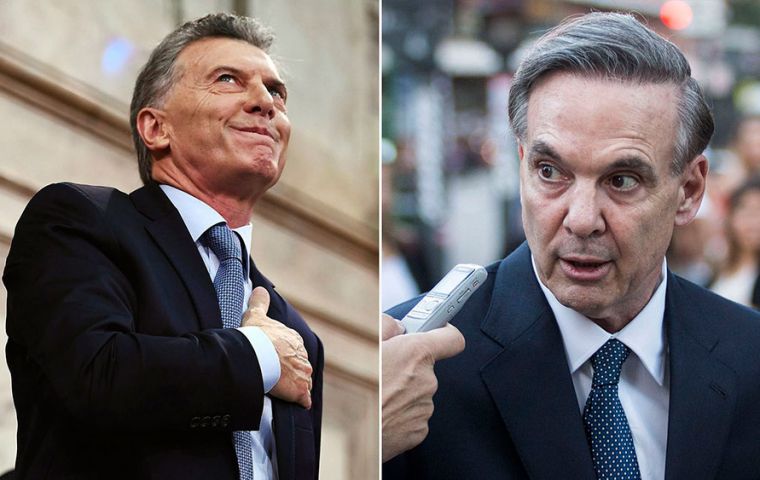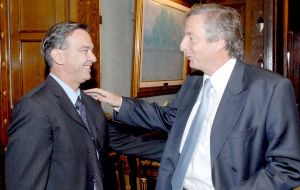 Miguel Angel Pichetto was born in Buenos Aires and moved to the Patagonian province of Río Negro early in his career. He was first elected in 1983 as a Councilor of Sierra Grande, then mayor (85/87) and later a provincial lawmaker.
When Carlos Menem was elected president in 1989, Pichetto in the nineties also moved to the federal Congress as a junior deputy for Rio Negro. He was later appointed to the national council of magistrates and in 2001 became a Senator. For the last seventeen years he has been head of the block of Peronist Senators.
Along his career he has been a loyal Peronist, pragmatic, open to dialogue and most respectful of congressional procedures and rules. He loyally supported Peronist presidents, Carlos Menem, Eduardo Duhalde, Nestor Kirchner, and later Cristina Fernandez until they parted.
When president Mauricio Macri was elected in 2015 and took office, Pichetto despite in the opposition helped the incoming administration pass crucial pieces of legislation and also prevented the Senate from stripping Cristina Fernandez of her congressional privileges to face court on several corruption cases.
Ahead of this year's presidential election Pichetto was one of four main founders of the Federal Alternative, an alliance of moderate opposition leaders aimed at becoming a third electoral option to capture centrist voters disappointed with Macri's centre-right government but also unwilling to see Cristina Fernandez return to power.
However his decision, on invitation from the president, to join forces with Macri may have been precipitated by expectations that another powerful member and founder of the group, Sergio Massa, will team up with the Alberto Fernández-Cristina Fernández duo, potentially taking the roughly 10% of votes that he represents with him.
That leaves Juan Schiaretti, who was re-elected as governor of the province of Córdoba last month, and Juan Manuel Urtubey, the outgoing governor of the northern province of Salta, as the only founders of Federal Alternative.
Roberto Lavagna, former economy minister under Ms Fernández's predecessor and husband, Néstor Kirchner, recently announced that he was running for president separately from the Federal Alternative.
Pichetto since becoming a Senator in 2001, first represented Nestor Kirchner's Front for Victory grouping but later fell out with Cristina Fernández
Speaking to a local radio station on Tuesday Pichetto described many of Cristina Fernandez ideas as "old" and "crazy" that reminded him of the socialist government in Venezuela, which he underlined that he disliked.
"Argentina needs to consolidate a democratic, capitalist, intelligent, productive, expansive system that generates employment," he added.
"It's a good move", said Julio Burdman, a political analyst, who cautioned that some of Macri's core voters may not like seeing a Peronist on the presidential ticket.
"It's similar to [Cristina Fernández's choice of] Alberto Fernández. Neither translates into more votes, but they are well-known figures [who can help ensure] governance in 2020 . . . which is exactly what Argentina's creditors are demanding," he added.
Senator Pichetto also revealed that before taking the bold step, he consulted with former presidents Carlos Menem, Eduardo Duhalde, other Peronist leaders such as Sergio Massa and many provincial governors, (mostly Peronists) and members of Congress.
He also admitted that a recent trip to New York where he met with representatives from the financial system, sovereign funds and large corporations, helped him with the decision. "I was told investors want to see Argentina strong and recovering but also warned about the vulnerabilities and possible shortcomings".
However Pichetto pointed out his decision to accept the vice presidency in the reelection ticket of Macri was "a personal decision which does not include my party".
He also praised Macri's foreign policy as modern and integrating Argentina to the real world, and underlined the significance of developing the Vaca Muerta shale deposits, mining, agriculture to help the Argentine people enjoy a life they deserve.
Ex president Carlos Menem congratulated the "friend and companion Miguel Angel Pichetto who with his participation will favor the achievement of basic and definitive consensuses for the good of the Argentine people, growth and greatness of our beloved motherland".
Another critical ally of president Macri, the head of the Civic Coalition lawmaker Elisa Carrió supported the naming of Pichetto describing him as a responsible professional, and above all "was never involved in any coup mongering".

Ms Carrio said Pichetto belongs to the institutional Peronism, respectful of democratic values and gives the Macri administration governance, and "besides he knows how to move around in the Senate".
Finally Ms Carrió pointed out that the coming elections will mark a historic event, for the first time a non Peronist or military president will deliver the executive office to another constitutional president, something which has not happened in Argentina since 1928 under president Alvear.