Argentine minister underlines Falklands' cooperation with UK in his final report
Saturday, November 30th 2019 - 07:34 UTC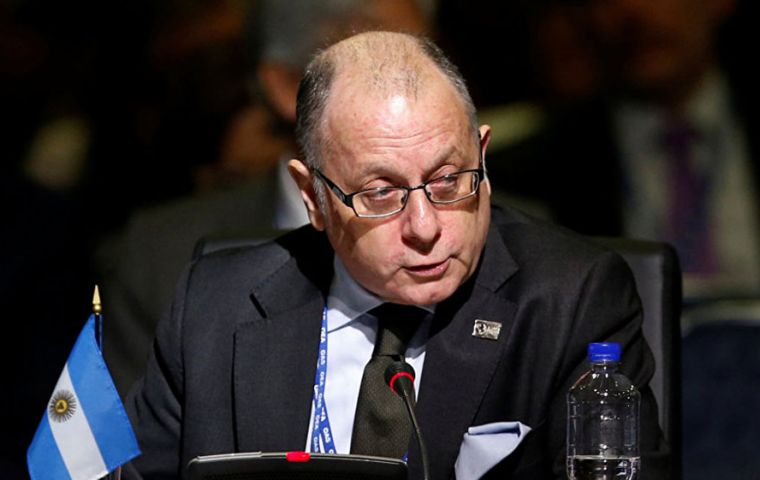 With the change of government in Argentina just round the corner, 10 December, the Foreign and Worship ministry presented a Foreign Policy Performance Report of the four-year mandate of outgoing president Mauricio Macri. The report was presented by Minister Jorge Faurie, and chapter 5 refers to the South Atlantic Islands, specifically the Falklands, and also Antarctica.
"We continued reaffirming the imprescriptible Argentine rights over the Malvinas, South Georgia, South Sandwich islands and adjoining maritime spaces and we advanced Antarctic policy as a State policy.
We revitalized relations with the UK and at the same time advanced bilateral cooperation in areas of mutual interest with the purpose of generating the conditions that contribute to a definitive solution of the sovereignty dispute.
We implemented the "Humanitarian Project Plan for the identification of Argentine soldiers buried in the Darwin cemetery (Argentine Military Cemetery at Darwin).
We achieved a milestone in the defense of our rights in the South Atlantic with the extension of the exterior limit of the continental shelf beyond the 200 miles, a historic accomplishment which strengthens Argentine sovereignty rights in such an important political, economic and strategic zone.
We reestablished cooperation with UK in the exchange of scientific information for the conservation of fisheries resources in the South Atlantic, including joint scientific research cruises. We increased connections between the Argentine continental territory and the Islands through the establishment of a new flight between Sao Paulo and the Malvinas Islands with a stopover in Cordoba.
We continued with actions against the illegal exploration and exploitation of natural resources in Argentine maritime spaces in defense of national sovereignty.
We protested all unilateral actions undertaken by the UK in the disputed area to safeguard the national position. We continued to work in the framework of the Antarctic Treaty System, thus boosting the scientific development and Argentine presence in Antarctica.
We hosted the XLI Consulting Meeting of the Antarctic Treaty in 2018. We presented and promoted jointly, with Chile the proposal for a Marine Protected Area in the Antarctic Peninsula.
We executed 45 plurianual scientific projects and several cooperation agreements with other Antarctic Programs, underlining Argentine scientific activities and commitment in Antarctica.