Falklands HMS Forth honors officers and crew members from SMS Scharnhorst sunk in 1914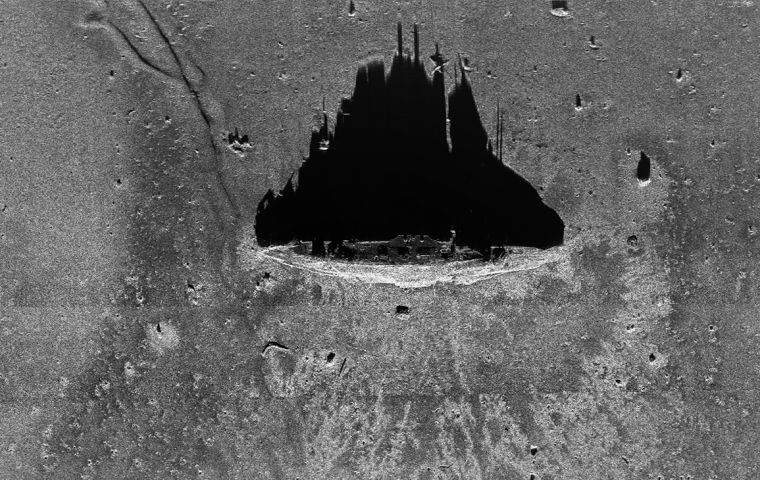 Falklands patrol HMS Forth hosted a wreath-laying ceremony in Falkland Islands waters during a remembrance service honouring those who lost their lives aboard SMS Scharnhorst in 1914.
The service took place at the site of the newly-discovered wreck of the German armoured cruiser, 92 nautical miles off the coast of the capital, Stanley.
The crew of the patrol ship were joined by personnel from British Forces South Atlantic Islands (BFSAI), led by BFSAI commander, Brigadier Nick Sawyer.
At an earlier wreath handover ceremony the crew of the A400M transport plane at BFSAI took on the custodian of the wreath of remembrance from Lady Alexandra Norton and Mr Mensun Bound.
Lady Norton, is the great great niece of German Admiral Maximilian Graf Von Spee, who lost his life along with his 800 men when SMS Scharnhorst was lost during the First World War on December 8 1914.
Mr Mensun Bound led the team that first discovered the wreck in December 2019 after a five-year search.
HMS Forth is the first of five second-generation River-class patrol ships to begin extended missions in regions around the globe under the Royal Navy's revamped forward presence.
She deployed from Portsmouth in November to begin her mission safeguarding the Falklands. She took over from HMS Clyde, which was decommissioned in December. (RN)