Mercosur needs changes, former Uruguayan President Pepe Mujica says
Thursday, January 12th 2023 - 11:53 UTC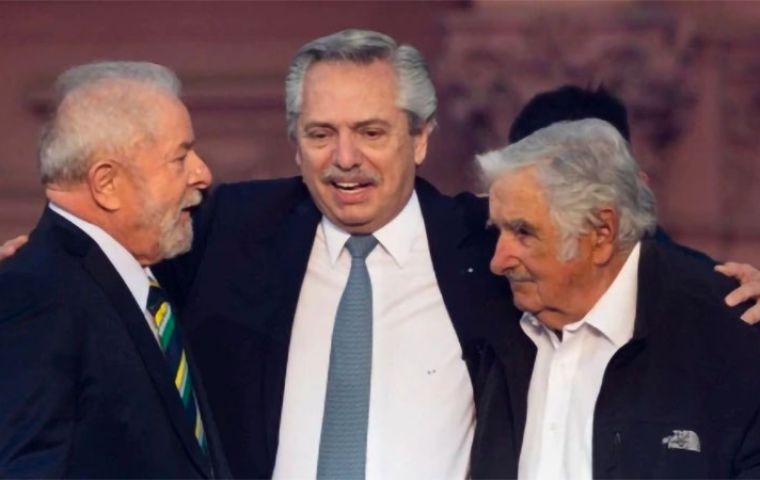 Former Uruguayan President José "Pepe" Mujica met Argentina's head of state Alberto Fernández over a barbecue at the Olivos residence in Buenos Aires to discuss the importance of integration of Latin America, because in the guest's words "we do not exist in the world."
Following the meeting, Mujica was spotted by reporters in the Uruguayan city of Colonia and made a few statements. "I went to Buenos Aires to talk to the Argentine president for no small reason, for the reason of the life of my grandchildren that I do not have, but I consider of the world that is coming to us. I am concerned about the integration of Latin America because we do not exist in the world," Mujica said.
"The world is transforming rapidly and we have to find a way to get together to fight with this world that is coming to us because we are nothing," he insisted while pointing out that Mercosur as a bloc "needs changes in that sense." He added that "I am an old subversive in the field of ideas."
Regarding President Luis Lacalle Pou's stance towards the regional alliance, the leftwing leader said that "the Uruguayan government is fighting for Uruguay and I understand it perfectly, but the skinny pig dreams of fat cornfields."
When asked about the Free Trade Agreement with China, Mujica pointed out that "China does not give a damn about us, because they are not going to fight with Argentina or Brazil for us, who are 2% of the GDP."
Regarding Sunday's incidents in Brasilia, Mujica stressed that "it was not a coup d'état" but "an uprising to provoke the military to take to the streets and never come back."
Mujica and his wife and former Uruguayan Vice President Lucía Topolansky met with Fernández to exchange views about current affairs. Fernández is getting ready to host the VII Summit of Presidents of the Community of Latin American and Caribbean States (Celac)on Jan. 24 in Buenos Aires, just days after Brazil rejoined the group.
Brazilian President Luiz Inácio Lula Da Silva is to arrive in Buenos Aires on Jan. 23 for talks with Fernández and after the Celac event he is due in Montevideo to meet with Lacalle.