China appoints Defense Minister sanctioned by the US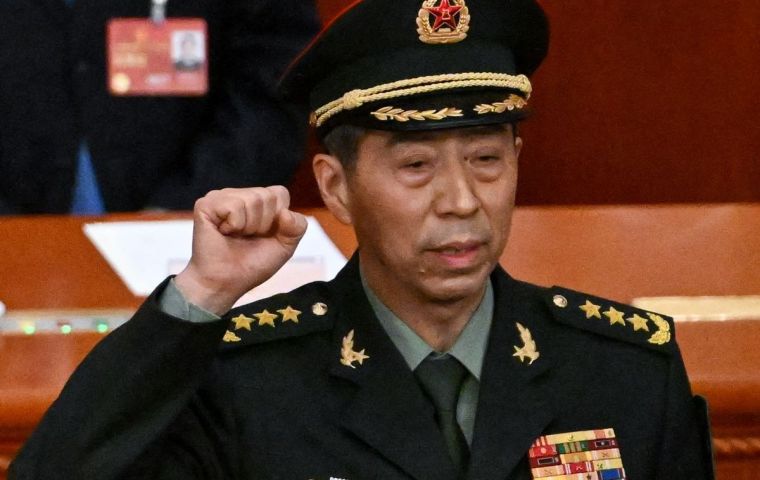 Chinese President Xi Jinping Sunday announced he had picked General Li Shangfu for the position of Defense Minister despite sanctions by the US Government against the newly-appointed official for approving arms purchases from Russia. Xi Jinping has kept Finance Minister Liu He and Central Bank Governor Yi Gang in their posts.
In Sunday's announcements, there were only two new names: those of General Li and the new chairman of the State Development and Reform Committee (NDRC), Zheng Shanjie.
General Li Shangfu is regarded as a technocrat specializing in aerospace, and a former director of the Xichang Cosmodrome. Born in 1958, Li is the son of a former high-ranking military officer of the Chinese Army's railway force, a survivor of the Long March and the Korean War. For more than 30 years Li worked at the Xichang Cosmodrome Satellite Launch Center, becoming its director in 2003. He has overseen dozens of space missions, such as Chang'e-2, to launch a lunar detection satellite. He was deputy commander of the Army Strategic Support Force from 2016 to 2017. He was then appointed director of the Equipment Development Department of the Central Military Commission (2017-2022).
In 2018, Li was sanctioned by Washington for cooperating militarily with Russia after allegedly approving the purchase of Russian fighter jets and air defense systems. Since then, China's top general has been banned from entering the US, as well as from using US financial systems.
The US Department of Defense's latest Military Report on China describes General Li as the officer providing "technical expertise on military modernization and space issues" to the newly elected Central Military Commission, the highest military decision-making authority of the Chinese state.
Li's aerospace engineering background serves as a counterbalance to other senior Army officers on the commission, such as Admiral Miao Hua and General Zhang Shengmin, both of whom were promoted through the military political work system.
Li's promotion reflects China's attempts to prioritize aerospace in its defense modernization program, against a backdrop of increasing technological competition between Beijing and Washington, according to The Diplomat magazine.
This week, the People's Congress also elected Xi Jinping to a third 5-year term as China's president for the first time in history.
Read also: Xi Jinping wins unprecedented third term as Chinese President

Meanwhile, the secretary of the Chinese Communist Party Committee of Shanghai and member of the 20th Standing Committee of the Politburo of the Chinese Communist Party, Li Qiang, was elected as the new prime minister of the Asian giant. He thus became the second most prominent figure in the Chinese political system. The new cabinet also includes four new vice prime ministers of the country, all of them close to Xi Jinping. In addition to Li Quiang, the appointment of 60-year-old Ding Xuexiang stood out.