Banks Serving Rich Argentines Moving from Bs. As. to Miami and Montevideo
Wednesday, April 28th 2010 - 06:29 UTC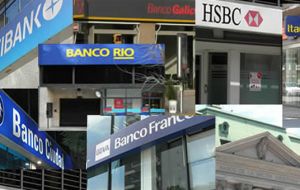 More than ten investment banks, including Wells Fargo, HSBC, Merrill Lynch and Credit Suisse, will leave Argentina in the coming weeks, a Buenos Aires newspaper reported Monday.
The decision came after the Central Bank of Argentina tightened the requirements for foreign investment banks to operate in the country, local daily Clarin reported, citing operators who spoke on condition of anonymity.
Wells Fargo is about to close its office in Argentina due to a "regional strategic decision," Tony Matera, the bank's spokesman, was quoted. The bank has a 100 strong staff but "already 14 have accepted moving to Miami".
The new requirements—which have been in force since early April and aimed to prevent the banks from making certain transactions—did not stop the banks from advising clients with offshore accounts or managing their portfolios. Resolution A4981/09 reinforced controls over the wealth management business, which is basically advising rich customers on investments overseas. The new rules virtually ban these banks from attracting Argentine deposits to send overseas to wealth funds.
The Central Bank of Argentina said 39 foreign banks are affected by the new requirements, of which some 16 are expected to leave Argentina. The new communications technology such as video conferences and internet transfers also helped many of these banks to change their strategy and reduce the number of offices in the region.
Wells Fargo and HSBC will move their operations to Miami, while Merrill Lynch and Credit Suisse will continue their wealth management operations from Montevideo, in neighbouring Uruguay, which has several free trade zones from where the banks plan to operate.
However what can't be replaced are human resources. "An Argentine will always want to deal with another Argentine", said one of the bankers moving from Buenos Aires.