South Georgia stranded cruise passengers en route to Montevideo on rescue vessel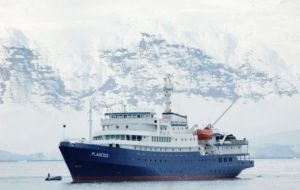 Dutch Oceanwide Expeditions reported that 74 passengers and 21 crew members from the Antarctic expedition cruise ship MV Plancius , stranded in South Georgia have been transferred to a rescue ship and are on their way to Montevideo.
On April 9, the Plancius sailing in the South Atlantic experienced mechanical problems that saw it take shelter April 12, resting alongside the jetty of King Edward Point Research Station in Grytviken/Cumberland East Bay/South Georgia (54°17'S, 36°30' W). Everybody on board was safe and well and enjoying the scenery of the South Georgia outpost, a former whaling station and now wildlife reserve.
The plans to continue with the "Atlantic Odyssey" that started in Ushuaia, extreme south of Argentina, on March 29, were then definitively cancelled by the cruise company.
Instead of heading for Praia, Cape Verdes, the Plancius passengers and crew members are now aboard the Comoros flagged MV Ushuia which departed on Wednesday headed for Montevideo where she is expected to arrive April 24.
Meantime a tugboat is proceeding to King Edward Cove in South Georgia to tow the Plancius to a repair location, probably Ushuaia or Punta Arenas in Chile.