Falklands' denies political impact of Argentine South Georgia scientific cruise
Friday, May 10th 2013 - 07:23 UTC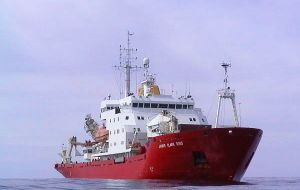 News this week that Argentina had decided to undertake fisheries research in the South Georgia and South Sandwich Islands (SGSSI) is not connected in any way to the Falklands, Acting Governor Sandra Tyler-Haywood has assured.
Speculation that it could be deemed a "ratcheting up," was unfounded, she said adding that South Georgia and the South Sandwich Islands are a completely different territory to the Falkland Islands and it was not in Argentina's interest to upset the Conservation of Antarctic Marine Living Resources (CCAMLR), of which it was a founding member.
Mrs Tyler-Haywood said although the Argentine vessel 'Dr. Eduardo Holmberg' had only sailed from Mar del Plata on April 26, Falklands' Government House had been aware of plans for the cruise since January 2013.
The ' Dr. Eduardo Holmberg' had been boarded and checked by the British Antarctic Survey's RRS James Clark Ross (JCR) last Tuesday, as is the right of all CCAMLR members. Mrs Tyler Haywood said the inspector from the JCR had been welcomed on board the Argentine vessel carrying 14 scientists, and it was apparent all CCAMLR regulations were being complied with.
To date 15 test trawls have been carried out to the northwest and south of South Georgia with further trawls planned for the northern part of the island before the 'Eduardo Holmberg' returns to Argentina at the end of May.
Argentina had notified CCAMLR of their intention to carry out the research cruise; however what they failed to do was to inform the UK which is normal for vessels to do when operating within a British Overseas Territory.
Mrs Tyler-Haywood confirmed that a letter had been lodged with CCAMLR to circulate to all members expressing dismay at the lack of notification.
"Had they notified us we would have still issued permission, it would not have been refused because it was an Argentine vessel," she explained, adding that because Argentina would not accept South Georgia and the South Sandwich Islands were a British Overseas Territory, they did not think they had to obtain approval. Notifying and obtaining authority applies to all countries including Britain.
"If any further notifications are received from Argentina we will treat them in accordance with every application we get for that kind of cruise and will take action as we consider appropriate," said Mrs Tyler-Haywood, adding: "The key thing for Islanders is that there is no evidence at all of it being related to the Falklands referendum, there is a separate dispute between Argentina and the UK on SGSSI, it's not all lumped together." (PN)