Falklands' iconic communications Cable & Wireless changes name to Sure
Monday, July 15th 2013 - 15:08 UTC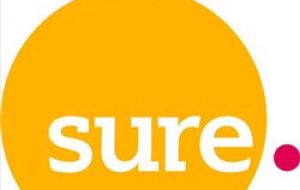 In April this year Cable & Wireless South Atlantic Ltd, along with the Channel Islands, Isle of Man and Diego Garcia were acquired by the Batelco Group (*), a leading telecommunications provider to 16 markets spanning the Middle East & Northern Africa, Europe and the South Atlantic and Indian Ocean.
This marks the start of an exciting new phase for the business, as they join an international organisation, "which is committed to delivering value and excellent customer service," said a spokesperson.
"To underpin these important changes to our business, with effect from today, July 15 2013, we have changed our name from Cable & Wireless to Sure.
The company chose to adopt the already well respected and popular consumer brand, Sure, that is used across Channel Islands & Isle of Man and roll it out across our South Atlantic islands of Ascension, Falkland Islands and Saint Helena." stated Justin McPhee, Chief Executive of Sure in the Falkland Islands.
Alongside the re-brand Sure has refreshed its existing brand, introducing a new look logo that represents a modern, optimistic outlook for the future. Serving the communities where Sure operates is at the heart of the company's approach.
"The acquisition by Batelco is excellent news for customers and marks the start of an exciting new phase for our business," said Justin.
"We will continue to make decisions according to the needs of the markets that we know best and as a global company, we have the resources to enable investment in the islands as we continue to develop and grow." (PN)
(*) Batelco listed on the Bahraini Bourse and has a history stretching back nearly 150 years, is the leading telecom operator in the Kingdom of Bahrain serving 7.8 million customers across six jurisdictions in the Middle East and North Africa.
In the financial year to December 2012, the firm grew its mobile customer base by 17% and broadband customers by 52%. In the process, it generated net profits of over 200 million from revenues of 808 million dollars.
The acquisition of CWC Monaco and Islands Division will add 11 more operations to Batelco global footprint and will see the company operating in European markets for the first time.
Batelco said at the time that strategically it is focused on diversifying and expanding its geographic reach in mobile and broadband markets whilst accelerating growth in those markets where it already has a presence.