China extends a 'financial' hand to dollar and credit strapped Argentina
Saturday, July 19th 2014 - 08:16 UTC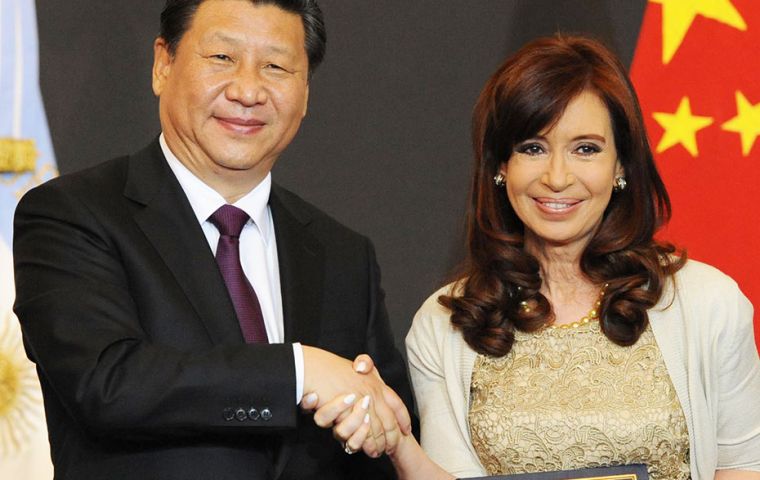 Argentina signed deals on Friday to borrow 7.5 billion dollars from China at a time when Buenos Aires cannot access global capital markets because of disputes over unpaid debt. Beijing also extended a three-year agreement for an 11bn swap operation between the central banks of Argentina and China.
Among the deals signed, Argentine President Cristina Fernandez and her Chinese counterpart, Xi Jinping, agreed on a loan for 4.7bn from the China Development Bank for the construction of two hydroelectric dams in Patagonia. China Gezhouba Group Co Ltd (600068.SS) and Argentina's Electroingenieria SA won contracts last year to build the two dams, which will have a combined generating capacity of 1,740 megawatts.
The Chinese bank also granted a 2.1bn loan to help finance a long-delayed railway project that would make it more efficient to transport grains from Argentina's agricultural plains to its ports.
"It's a day we can define as foundational in the relations between our two countries," Fernandez said after signing the deals.
President Xi pledged to promote a "balanced" trade between China and Argentina, in order to make the bilateral relationship "mutually beneficial."
Xi highlighted his government will continue to invest in Argentina in areas such as gas, oil, agriculture and nuclear energy, during the presentation of 20 bilateral agreements signed at Government's House.
Cristina Fernandez said the relationship between Argentina and China is a "matter of State and not a Governmental policy," while thanking Xi for his visit to the country, the first of a Chinese president in 10 years.
"We believe in Argentina's development prospects," Xi Jinping concluded.
China is Argentina's second-largest trading partner after neighbor Brazil. However in 2013, Argentina's trade deficit with the Asian country increased more than 20% to 5.8bn.
Argentina is the world's third-largest exporter of soy and corn. China is the main buyer of its soybeans.
Xi, China's first president to visit Latin America's third-largest economy in a decade, arrived in Buenos Aires on Friday after participating in a summit of emerging economies of the BRICS nations - Brazil, Russia, India, China and South Africa - in Fortaleza, Brazil, earlier this week.
The Chinese president also signed a three-year agreement for an 11bn. swap operation between the central banks of Argentina and China that will let the Latin American country pay for Chinese imports with the Yuan currency.
"The exchange will mainly serve to facilitate investments in the currency of the country providing the funds and to strengthen the level of international reserves," the Argentine central bank said in a statement.
Argentina signed a similar deal with China in 2009.
The central bank could ask for the total or partial disbursement of the 70 billion Yuan in exchange for pesos to invest it, or to exchange it to dollars to fuel its reserves, said an Argentine central bank official.
Cristina Fernandez's government has imposed stringent import and capital controls to safeguard dwindling foreign reserves, which it needs to pay its debts. It has been virtually shut out of global credit markets since staging a massive 2002 default.
Hopes that Argentina's government might access markets again soon hinge on the country reaching a deal with holdout creditors who rejected its debt restructuring in 2005 and 2010.
Cristina Fernandez said the deal between the two central banks could offer "stability in exchange rates at the moment we are, as a country, suffering speculative attacks by vulture funds."
Xi Jinping arrived in Buenos Aires with a 200-people delegation for a three day official visit. He is the second Chinese president to visit Argentina, the first was Hu Jintao's ten years ago.