Nisman feared for his life, mistrusted his security and asked for the gun
Thursday, January 29th 2015 - 09:40 UTC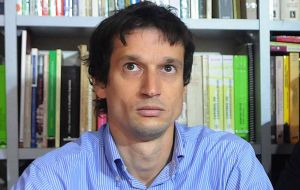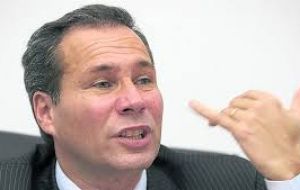 A computer technician in the Buenos Aires prosecutor's office who has been charged for lending a pistol to Alberto Nisman said the slain prosecutor asked him for the gun since he feared for his life and could no longer trust the team in charge of his security.
Diego Lagomarsino, 35, at a news conference Wednesday, the first time he talked about the events, recalled his meeting with Nisman, the prosecutor investigating the deadly 1994 AMIA Jewish center bombing, at Nisman's Buenos Aires apartment a day before he was found dead there of a gunshot wound to his head.
Lagomarsino, who acknowledged that he lent a "very old" .22 caliber pistol to Nisman, is the only one who has been charged in the case. Investigators say a .22 caliber pistol fired the bullet that struck Nisman from point-blank range above the right ear.
The technician explained that he received a call from a private number on Saturday afternoon, at around 4.25pm. The caller was Nisman, who asked Lagomarsino to come to his house in Puerto Madero's Le Parc apartment complex. He added that he identified himself at the front desk of the building, and entered Nisman's home via the service entrance as was usual.
According to Lagomarsino, Nisman told him on Jan. 17 at the apartment, "I am more afraid of being right than being wrong," referring to charges in a complaint he filed shortly before his death charging that Argentine President Cristina Fernandez was involved in a cover-up of Iran's participation in the AMIA bombing, which killed 85.
"Then he asks me, 'Do you have a gun?'" Lagomarsino recalled in the news conference held at the Buenos Aires office of his lawyer, Maximiliano Rusconi. "That caught me off guard, I did not understand it, it is not every day that your boss asks you for a gun," Lagomarsino affirmed. But Nisman, according to his statements, insisted, saying that he feared for his security.
"I cannot even trust in my own security detail," he told the employee.
"Do you know what it's like when your own children do not want to be with you because they are scared something could happen?"
The technician said that he accepted Nisman's request, returned home to look for the weapon - where he received another call from the investigator asking him if he had found it - and returned to Le Parc with the .22 pistol in his backpack. Upon arriving to the apartment he gave Nisman some basic security advice, while the prosecutor looked over the weapon.
"Do not worry, I will not use it," Nisman had told the technician, explaining that he was going to keep the gun stored in the glove-box of his car.
Lagomarsino also pointed out that he was disturbed by the movements of Nisman's security detail when he returned to Le Parc, at around 7pm on Saturday evening.
"I was very shocked," he asserted, stating that he had not seen any of the assigned bodyguards when he left the building, but on returning he had noted a security vehicle and one of the guards on the ground floor of the complex.
Maximiliano Rusconi, the defense counsel of Diego Lagomarsino said that "lending a gun is not a crime," he said.
Rusconi said that he plans to ask for president Cristina Fernández and Secretary to the Presidency Anibal Fernández to testify, considering that they both "have a lot of information"
"(Lagomarsino) is a young man who cannot believe what is happening to him" Rusconi said in an interview with a radio earlier in the day. He condemned TV shows for their depiction of his client.