Ex wife of Nisman claims he was killed to silence him and scare judges and prosecutors
Friday, January 19th 2018 - 09:44 UTC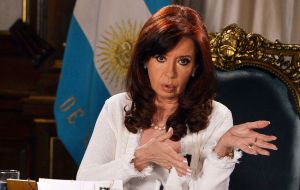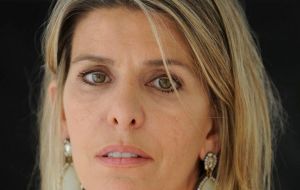 Argentina solemnly marked the third anniversary of the murder of Alberto Nisman on Thursday, with relatives and colleagues of the late federal prosecutor — who spent more than a decade investigating Iran's responsibility for the 1994 bombing of the AMIA Jewish center in Buenos Aires — gathering at La Tablada Jewish cemetery in the Argentine capital in tribute.
Those present at the service included Nisman's mother, Sara Garfunkel, his daughters Iara and Kala, Argentine Environment Minister Sergio Bergman, Ariel Cohen-Sabbah, the head of the Argentine Jewish communal organization DAIA, and Luis Czyzewski, the father of one of the AMIA victims. Rabbi Marcelo Polakoff led the group in prayers of remembrance.
Nisman had "sacrificed his life in the pursuit of his work," Czyzewski told the gathering. "From now on, it is up to the judicial system to determine who killed him."
Nisman's body was discovered in his Buenos Aires apartment on January 18, 2015 — the day he was due to present before Argentina's Congress a complaint that charged the former government of President Cristina Fernandez de Kirchner of colluding with Iran to secure the lifting of six "Red Notices," issued by the global law enforcement agency Interpol, for the capture of the Iranian operatives wanted in connection with the AMIA atrocity.
While Cristina Kirchner initially portrayed Nisman's death as a suicide, a forensic police investigation in 2017 determined that the prosecutor had been murdered, following an assault involving two individuals who broke into his apartment. Many Argentines suspect that Nisman's killing was ordered from within the government.
In a radio interview on Thursday, Nisman's former wife, federal judge Sandra Arroyo Salgado disclosed that "the last three years have been a nightmare."
Arroyo Salgado emphasized that the hardest period for Nisman's family after his death was the eleven months in which Cristina Kirchner remained in power, before she was defeated in the November 2015 elections by President Mauricio Macri. During that time, Nisman's reputation was the subject of a smear campaign, which left his family enveloped in what Arroyo Salgado called a "first year of fear."
Arroyo Salgado asserted that Nisman's killing had been based upon "a double objective."
"One, to silence Alberto Nisman, and those of us who knew him knew that the only way to silence him was to kill him," she said. "Second, to limit the actions of judges and prosecutors by demonstrating what could happen to them if they investigate those in power."
Arroyo Salgado argued that as in the AMIA case itself, Nisman's murder should also be treated as a "crime against humanity."
Argentina's Senate is currently deciding whether to lift ex president Cristina Fernandez' immunity from prosecution following a request from the federal judge who pursued Nisman's original complaint against her government. Several relatives of AMIA victims declared on Wednesday that they wanted to see the former president prosecuted on the ultimate charge of "treason to the fatherland."