Lula resists arrest deadline waiting for last minute habeas corpus filed at an appeals court
Friday, April 6th 2018 - 16:23 UTC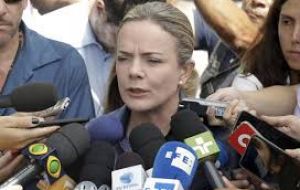 Former Brazilian president Luiz Inácio Lula da Silva told Folha de Sao Paulo early Friday that he has decided not to turn himself at the Federal Police in Curitiba where he must serve a 12-year prison sentence for corruption, as ordered by judge Sergio Moro.
Lula spent the night at the São Bernardo do Campo (metropolitan Sao Paulo) Metalworker's Union Headquarters in the company of his sons, friends and party leaders, and is expected to make an announcement at 16:00, an hour before he should turn in Curitiba.
Whether the Federal Police will try to arrest Lula at the Union office, has yet to be seen, since militants have set up a human corridor around the Metalworkers Union headquarter where the former president is holding up.
Lula said he is awaiting the results of a last minute habeas corpus request filed by his defense, this time at the Federal Superior Justice Tribunal (STJ). Lula's lawyers urged the appeals court to suspend the prison order, arguing they had not been given time to exhaust procedural appeals and painting the case as an effort to remove him from the presidential race he is currently leading.
Lula's defense team issued a note saying they had filed a request to the UN human rights committee requesting interim measures to block the arrest warrant, alleging bias and the violation of the right to presumption of innocence.
They said Lula's case had been judged far quicker than any other in the jumbo Car Wash rampant corruption investigation.
According to Paulo Okamotto, President of the Lula Institute, a trip to Curitiba would present logistical and security difficulties, especially after Moro ordered the blocking of the PT Party leader's bank accounts. However the Federal Police announced it has an aircraft ready to fly the ex leader to Curitiba in southern Brazil.
It was not clear if the higher court would intervene before a 5 pm., deadline for the former president to start serving time for bribery and money laundering.
"We are gathered here with our supporters in the birthplace of the Workers Party ... so we can combat this injustice," said party leader Gleisi Hoffman. "Lula is innocent!"
Hundreds of die-hard supporters in red shirts thronged outside the union offices late into the night on Thursday, cheering spirited defenses of Lula, who sought refuge inside. Many remained camped outside the building early on Friday.
The same union was the launch pad for Lula's political career nearly four decades ago, when he led nationwide strikes that helped to end Brazil's 1964-85 military government.
He left office with sky-high approval of 83% and was called "the most popular politician on Earth" by former U.S. President Barack Obama. But Lula's downfall has been as stunning as the unprecedented corruption probes that have convulsed Brazil for the last four years, jailing dozens of politicians and business leaders long considered above the law.