Lula in prison in Curitiba. Fiery-emotional speech to supporters before turning in
Sunday, April 8th 2018 - 06:43 UTC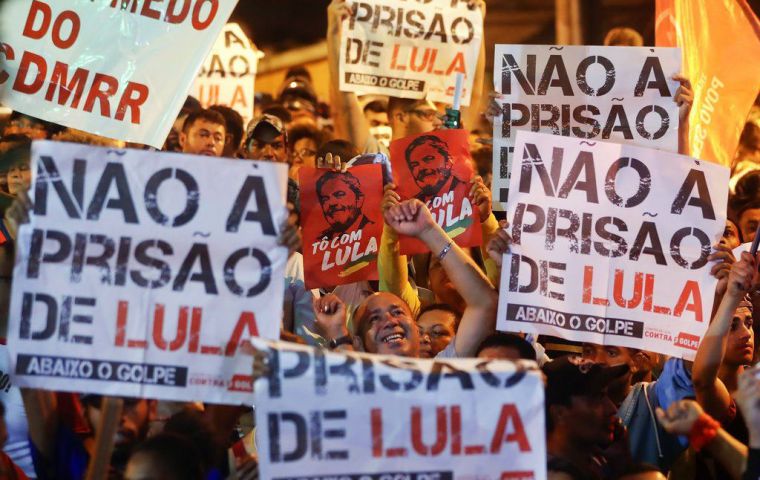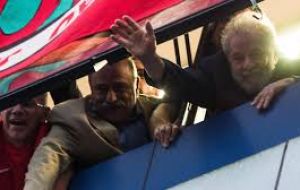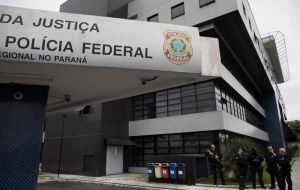 Brazil's leftist icon Luiz Inacio Lula da Silva turned himself in Saturday to start a 12-year sentence for corruption after a chaotic attempt by supporters to stop him from surrendering. Surrounded by bodyguards, Lula had to push through a seething throng of supporters to get into a police vehicle outside the metalworkers' union building in Sao Bernardo do Campo, where he had been holed up for two days and nights.
Earlier, the same crowd had mobbed his car and forced him to retreat when he attempted to drive out. "Don't surrender! Stay here Lula!" they chanted.
Finally in custody, the 72-year-old was driven under escort to Sao Paulo police headquarters for a medical exam. He was then flown by a single engine aircraft to the southern city of Curitiba, base for Brazil's gigantic "Car Wash" anti-corruption operation.
A jail cell with special conditions, including a hot private shower and toilet, awaited him.
The arrest ended four straight days of at times surreal drama as Lula -- president from 2003-2010 and once one of the world's most popular politicians -- tried to resist.
After his arrest, there were reports of fireworks and cheering in Brasilia, Rio de Janeiro, Sao Paulo and other cities among those who long considered Lula responsible for the tide of graft sweeping over Brazilian politics.
However, his supporters had tears at the exit of a man they remember for removing tens of millions of people from poverty and for connected with voters in a way few other modern Brazilian politicians have managed.
Despite his many legal problems, Lula remains the frontrunner ahead of October presidential elections and if he is unable to compete, as expected, the race will be thrown wide open.
Lula was found guilty last year of taking a luxury apartment as a bribe from a construction company.
He had been ordered to surrender to police by Friday but defiantly missed the deadline while shut up in the union building in Sao Bernardo do Campo.
In emotional scenes earlier Saturday, he emerged from the building to address the several thousand diehard supporters from his Workers' Party and other leftist organizations who had vowed to shield him from police.
In an hour long speech, Lula called himself "an outraged citizen" over his conviction, saying that Brazil's top anti-corruption judge, Sergio Moro, "lied" about him being given the apartment by a big construction firm as a kickback.
"I am the only human being to be put on trial for an apartment that does not belong to me," he said.
Lula accused the judiciary and Brazil's most powerful media conglomerate of assisting a right-wing coup with the ultimate aim of preventing him from competing in the race.
"They don't want me to take part," he said. "Their obsession is to get a photo of Lula as a prisoner."
But, crucially, Lula said he would drop his dramatic show of resistance and comply with the arrest warrant. After the speech, Lula was lifted onto the shoulders of supporters who chanted, "I am Lula."
Lula also faces multiple other court cases and is considered the biggest scalp so far for prosecutors at the "Car Wash" probe -- an unraveling of systemic bribery and embezzlement at the top echelons of Brazilian politics.
But he is also an outsized figure in recent Brazilian history and revered around the world among leftists. While president, he managed to build bridges with the center and oversaw a booming economy.