US coalition: Strikes in Syria increases tension; reactions worldwide
Saturday, April 14th 2018 - 13:53 UTC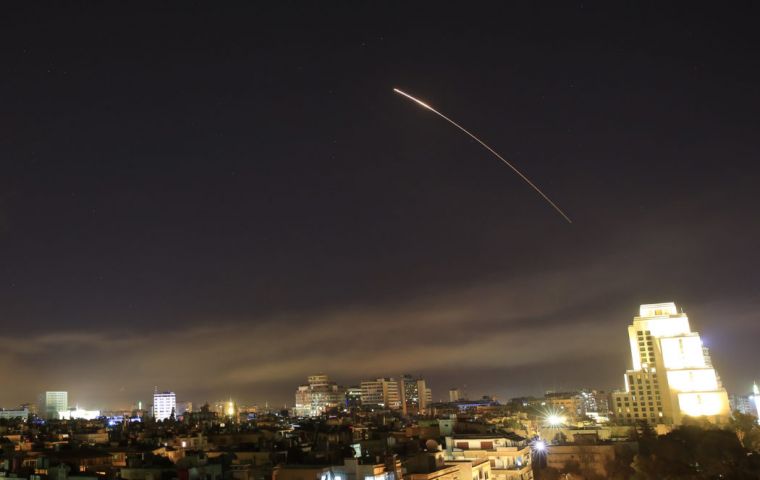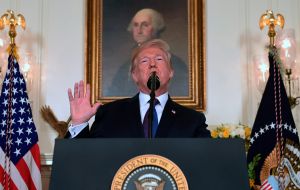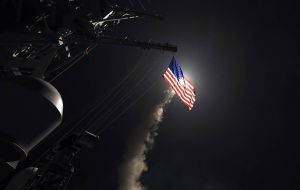 Bombs have fallen. Damascus has been beaten again. The United States, United Kingdom and France coalition launched airstrikes against Syrian targets as Donald Trump sought to punish Syrian President Bashar al-Assad for a suspected chemical attack last weekend near Damascus that killed more than 40 people.
"Mission Accomplished!" wrote Donald Trump through his Twitter account this morning after announcing the one-night operation that hit three targets. The damaged installations were Syrian research, storage and military buildings.
French and United Kingdom leaders confirmed their involvement in the strikes.
UK Prime Minister Theresa May confirmed Britain's involvement in the strikes. "We would have preferred an alternative path. But on this occasion there is none." While French President Emmanuel Macron has confirmed France's military involvement in the operation.
According to Theresa May, the strikes were not about "regime change" or "intervening in a civil war", but were to "deter the use of chemical weapons" by the Syrian government.
On the other hand, Syrian President Bashar al-Assad releases a video showing it is business as usual in Syria. "The barbaric aggression will not affect the Syrian people and their heroic armed forces," state news agency SANA cited an official source as saying.
Shortly after the attack, the Syrian presidency posted on Twitter, "Honorable souls cannot be humiliated."
The EU called on Saturday for Syria's allies, Russia and Iran, to help stop more chemical weapons attacks by the Syrian government, warning of fresh economic sanctions.
Russia's reaction was calling for an emergency meeting of the United Nations Security Council as Moscow said it would consider supplying S-300 missile systems to Syria following U.S.-led strikes. "Russia convenes an emergency meeting of the UN Security Council to discuss aggressive actions of the U.S. and its allies," President Vladimir Putin said in a statement published on the Kremlin website.
Just 11 days ago, on April 3, the US president publicly claimed for abandoning the conflict and repatriation of the 2,000 soldiers stationed in Syria. "We do not get anything out of it. We have nothing, except death and destruction. It's horrible," Trump said then. Four days later, everything changed. The civil population of the rebel Duma, according to the American version, was gassed. There were at least 60 dead and hundreds injured.
US coalition warn Syria of more missile strikes if chemical attacks used again.