Argentina and Venezuela announce a "new world order of relationships"
Wednesday, April 21st 2010 - 03:11 UTC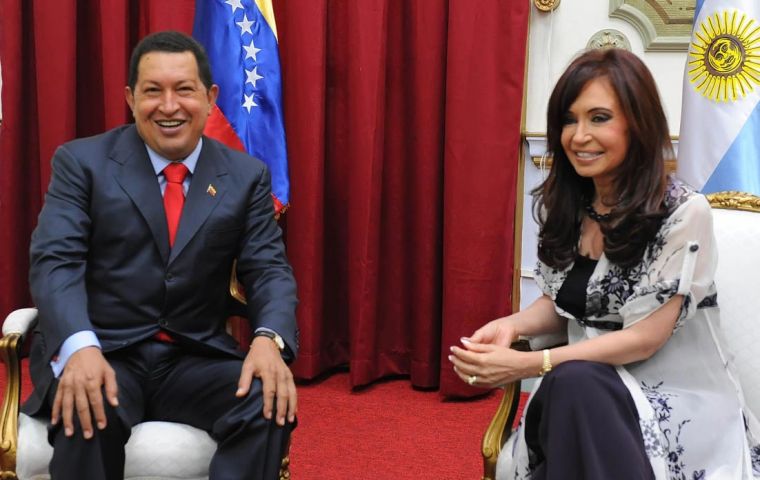 Argentina's President Cristina Fernández de Kirchner and Venezuela's leader Hugo Chávez said "the new world requires a new logic to accept a new order of relationships" during a meeting held at the presidential palace of Miraflores in Caracas.
"We are very happy with how our bilateral relationship is proceeding" said Mrs. Kirchner who added that "in South America, we can see the changes of the new order and the new ways of linking countries with each other".
Argentina and Venezuela signed 25 commerce and cooperation agreements in the framework of President Cristina Kirchner's visit to Caracas for the Venezuelan bicentenary independence celebrations on Monday.
Mrs Kirchner activity in Caracas began Monday with an official agenda of rallies when she was received by Chávez, along with Cuba's Raúl Castro, Nicaragua's Daniel Ortega, and Bolivian president Evo Morales at the National Pantheon of Caracas, where the leaders made an offering to Venezuela's liberator Simón Bolivar.
Later on Monday, Mrs. Kirchner spoke before the Venezuelan National Assembly in Caracas, and said "my speech during this bicentennial [celebration] is an underserved honour" and added that "the ideas of liberty and equality don't have a nationality, they are universal values that have cut across history, not since 1810, but from before, because they are values that make the human condition."
She added that "this bicentennial year finds the people of South America in a new stage of transformation that I call a second independence."
According to Cristina, "ideas are instruments that aid the liberation of peoples and the construction of just and equal societies," and she said that "ideas that can be shown as results transform into policies and acquire true dimension, that of cultural battles, of transforming history."
The President compared the last 100 years of the region with the first, "which found us with the consolidation of republics in a model of division of labour, where we provided natural resources that were industrialized far away from these lands."
She also highlighted that "the men of 1810 thought the exact opposite, because if one analyzes the economic thinking of Manuel Belgrano and Mariano Moreno, they spoke of generating richness in our own countries."
"During the first 100 years the idea of the founders and liberators had been far removed from the concrete political practices of our societies and of those who had the institutional responsibility of leading our countries," said the President.
On the other hand, "in this second century we are in a different world," and she highlighted that "the last century was divided between the East-West contradiction that was imposed in our region by the fierce national security doctrine, which accounted for the disappearance of entire generations and the most formidable economic backwardness ever known."
According to Mrs. Kirchner "it's necessary, before a world that has once again collapsed in values—such as free trade, that the Government should disappear, and that the market should resolve everything—that those of us who have the historic responsibility in South America to lead by democratic will the countries that we have been chosen to govern, should formulate our own categories of thinking."
In this sense, she asked to "elaborate our own ideas in economic and political matters, and to interpret history and that which was left by the men of 1810, which was to achieve Latin American unity as a founding objective for the liberation of our peoples".